Week 24: Titusville, Beatles Rockband, and Dinosaurs
So our trip to Titusville was a bust. 
  Let me start at the beginning:
We drove up to Orlando on Saturday.  Our first stop was the Lego store in Downtown Disney.  The boys had no idea where we were going, so it was a nice surprise for them when we walked up to the Lego store.  Camden was blown away by it.  The store was packed though, and it was very difficult to move around in there, much less spend any time looking at the Lego sets.
We allowed Cam to pick his birthday present out (a Lego set of his choice).  He picked out a set from the Power Miners collection.
After the Lego store, we drove to Titusville.  Our plan was to park at Space View Park, grab some shut-eye, then wake up around 4am to watch the shuttle go up.  First of all, I have to say that seeing the shuttle on the launch pad at night was incredible.  There were literally NO obstacles between the launch pad and the park.  Just water.
So we paid to park in an over-grown field ($10), then we walked up to the dock.  NASA was already set up for filming/viewing.  There were tents set up, and people 'camping' on the dock already -  6 HOURS before launch!  I'd say there must have been about 100 people already there.
After we looked at the launch pad, we walked back through the park.  I took these pictures:
Then, after a quick trip to the BK Lounge, we headed back to the van for some sleep.  It took a few minutes, but we were all finally able to fall asleep.  After a couple of hours, Scott and I woke up because we were FREEZING!  Scott turned the heat on, and he was able to fall back to sleep, but with all of the noise around us (cars, trains, helicopters, people) I couldn't get back to sleep.
By 4am, the park was filled with people.  There were thousands of people there.  Here is Scott and the boys waiting for launch.
At T-10 minutes, the mission was canceled.
We were all very disappointed.
And then, it was traffic from hell.  Bumper-to-bumper traffic for hours! It was truly the worst traffic we have ever experienced – and that includes leaving Dolphins Stadium (or whatever they're calling it these days) after a playoff game with 75k fans in attendance.  It was really bad.
Many hours later, we were finally home.  Exhausted.  Hungry.  In need of showers.
I took Ty to Walmart so he could pick out a present for Cam.  He chose two Ben 10 Lego sets.  Cam LOVED them!  Scott and I also bought him a Lego pajama set.  Here are some pictures of him wearing the new pjs, with the Lego set he picked out at the Lego store, and holding the Lego sets Ty bought for him: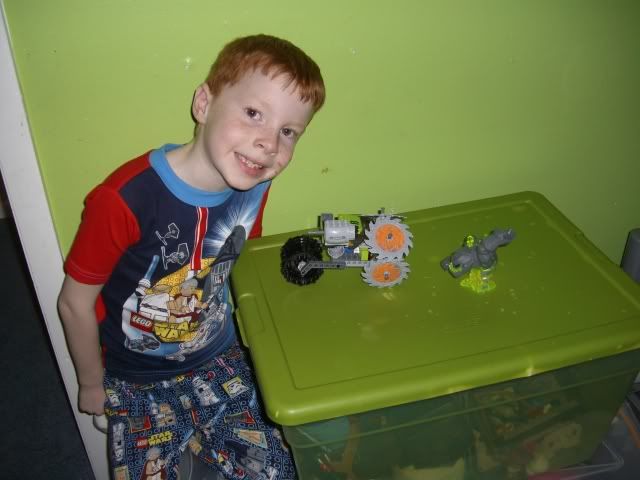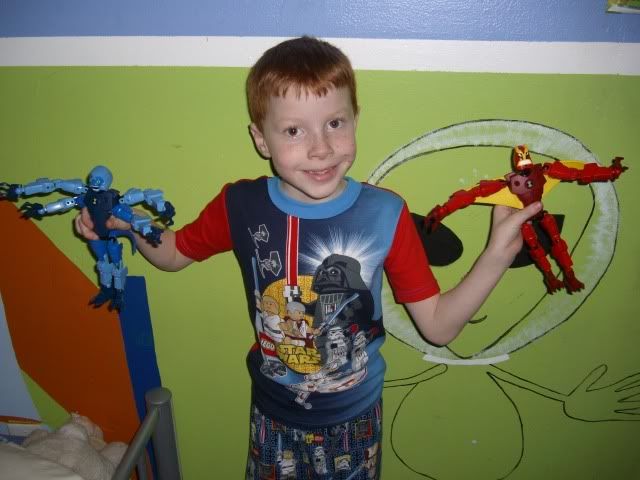 So Monday, we took the day off from school.  I felt like we all needed some time to recoup from the trip.  Plus, we had invited friends and family over for Cam's birthday on Tuesday night, and I still needed to bake the cake.
On Tuesday, we had our monthly class at the Imaginarium.  Our topic this week was 'prehistoric animals'.  This was the class that the  boys had been waiting for.  We started the class by taking a tour of the dinosaur exhibit in the main hall.  Miss Annie told the children all about the dinosaurs.  Then we headed back into the classroom to discuss the different classes that the dinosaurs belonged to.  She showed the children various fossils and bone replicas.
During the animal show, Mr. Kevin decided to bring out some of the different animals that the Imaginarium owns.  One of the creatures he brought was a Madagascar Hissing Cockroach.  Yeah…I freaked a bit.  Especially when Ty volunteered to hold it in his hand!!  YUCK!  I made him wash his hands with soap before we went back to class.
In the second half of our class, Miss Annie had the children build a dinosaur puzzle together.  They had to pretend to be paleontologists and figure out where the animal bones connected.  Then, they had to identify the dinosaur.  I think this was probably their favorite activity.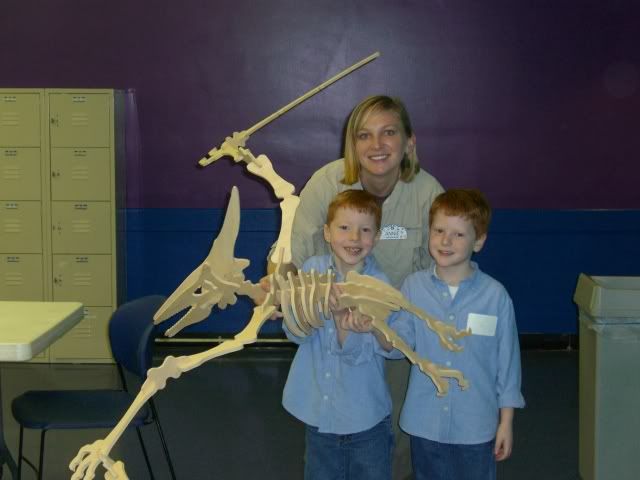 At the end of class Miss Annie let them play with the dinosaurs.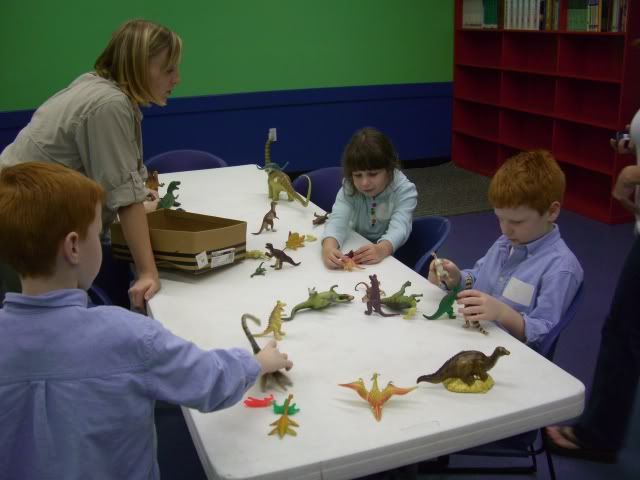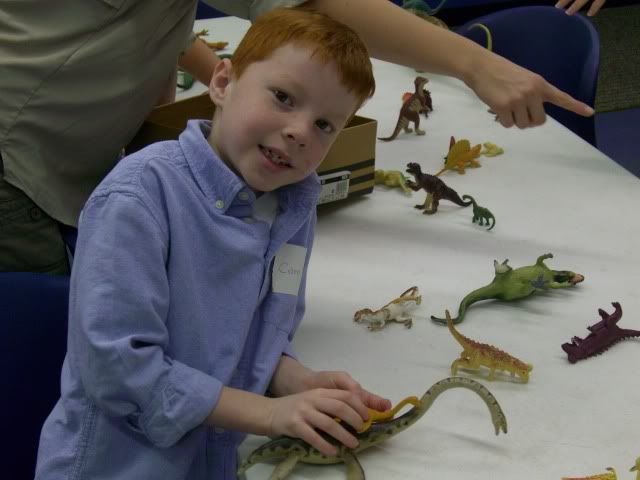 Tuesday night, we threw Cam a birthday party.  He had such a great time!  And so did everyone else! Here is the cake I made (Powerminer Legos – complete with "crystals"):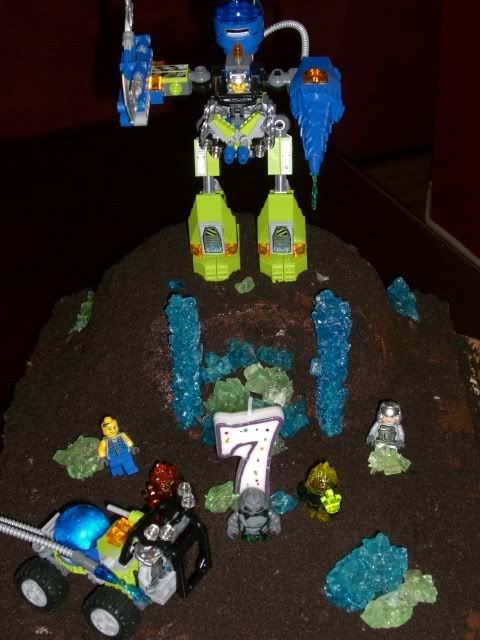 Here are a couple of videos:
Here are some still shots from the party: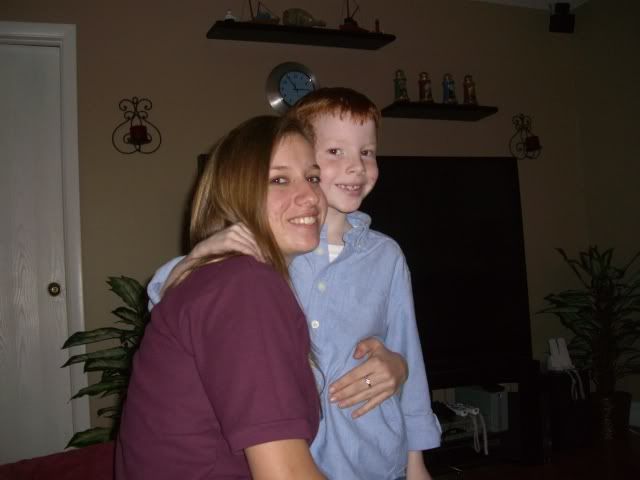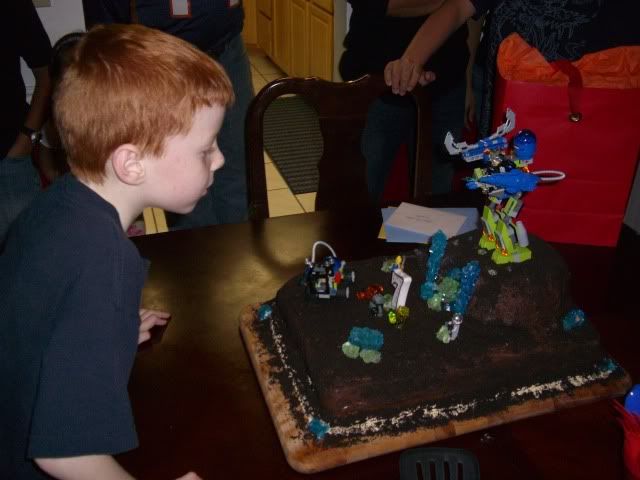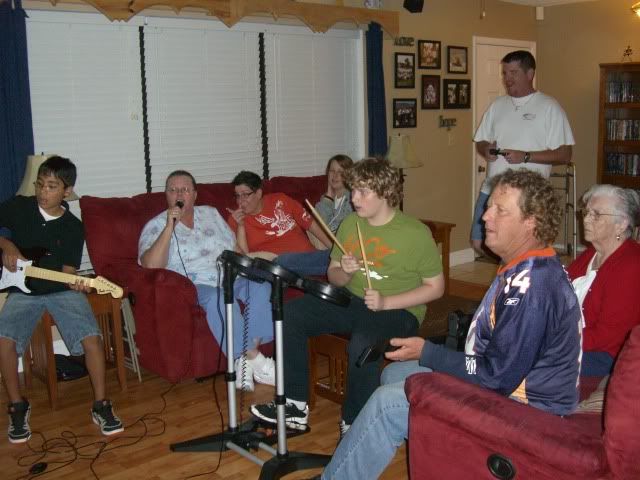 On Wednesday, we hit the books in earnest.
In Heritage Studies, we had to make our own 'crops'.  You all KNOW how this will end, right?  I have to keep attempting to grow stuff though…one day I'm going to grown something and have it live!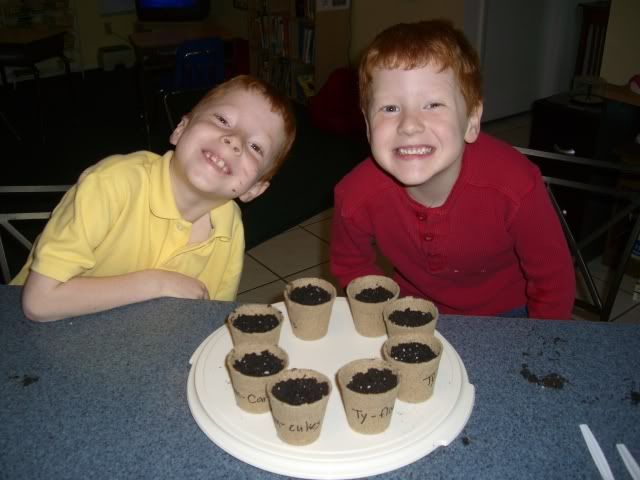 Cam had to make "Hardtack" in his phonics class.  He's learning about cowboys.  He also learned that hardtack was used for explorers and soldiers to keep them nourished during long journeys.
Cam decided to taste the dough.  He liked it.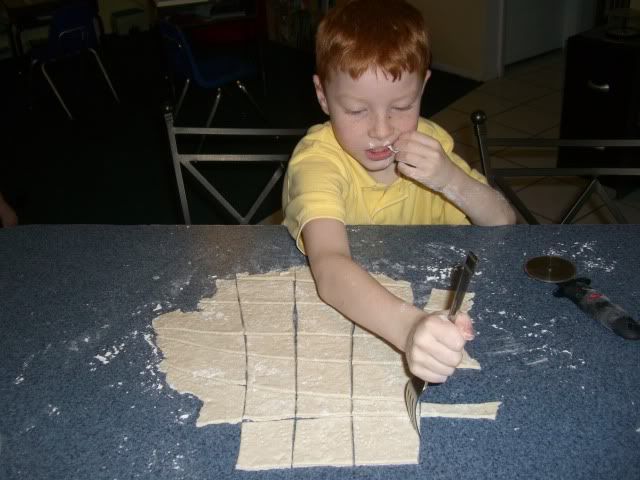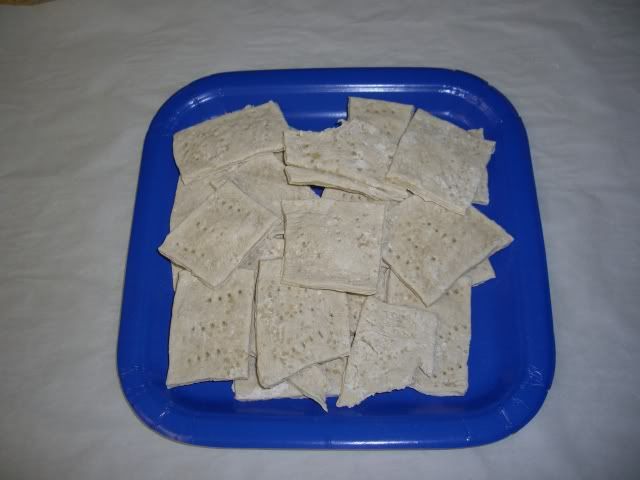 Ty's Snack of the Week was called, "Cloud Cookies".  It's meringue cookies with chocolate chips.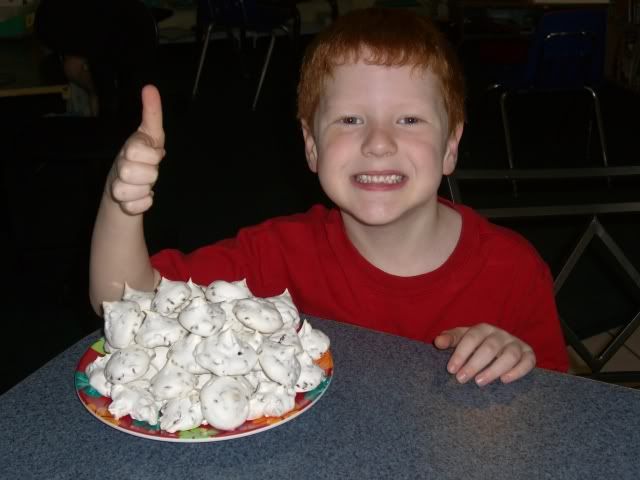 Cam got "fit" in his reading class this week.  After he completed a series of exercises, he was awarded a fitness medal.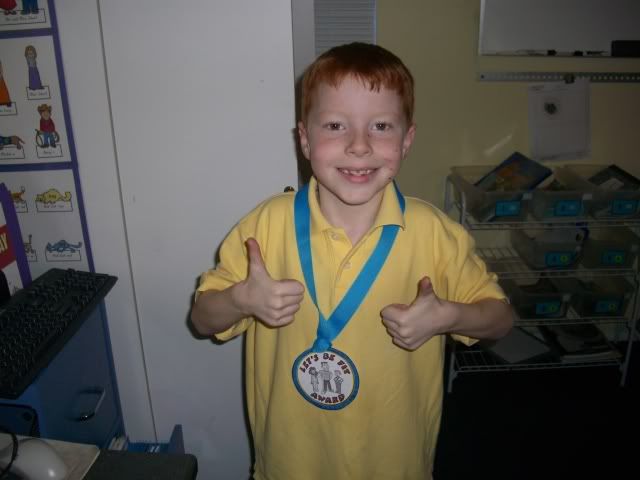 And here's Ty's reading class:
Even though it was a short week, we were able to pack a lot in.