Week 23: Six More Weeks of Winter
I planned our lessons this week around the fact that I had Jury Duty on Friday. The odds of me getting out of it were slim, as my pool number was rather low. Jury Duty was CANCELED!! That's three-in-a-row I've managed to escape.  (lol)  That meant that Scott would be the 'substitute teacher'.  So I wanted to make sure that everything would be ready for him.

On Monday, we wrapped up our series on Native Americans in Heritage Studies.  The boys learned about how Native Americans used to weave cotton to make clothes.  They made their own 'weave' with construction paper.
Then, they played a game that tested what they had remembered.  For each answer they got right, they got to put a feather in their headband.  Each boy got two questions correct.
They also drew a picture of their "favorite" tribe of  Native Americans.  Cam chose Eskimos.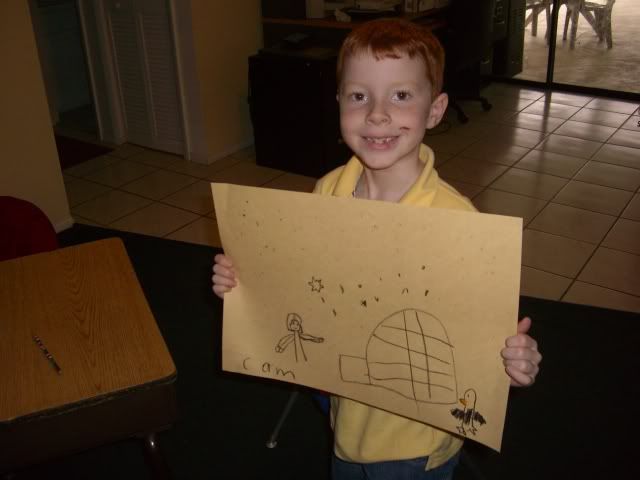 On Tuesday, we learned about the first settlers.  The boys followed the journey from England to "the New World" on a paper map, as well as on the globe.  After the lesson, we made a Coat of Arms that would represent our family if we had to settle somewhere new.  Cam's has the cross on it, and Ty's has a triceratops.  LOL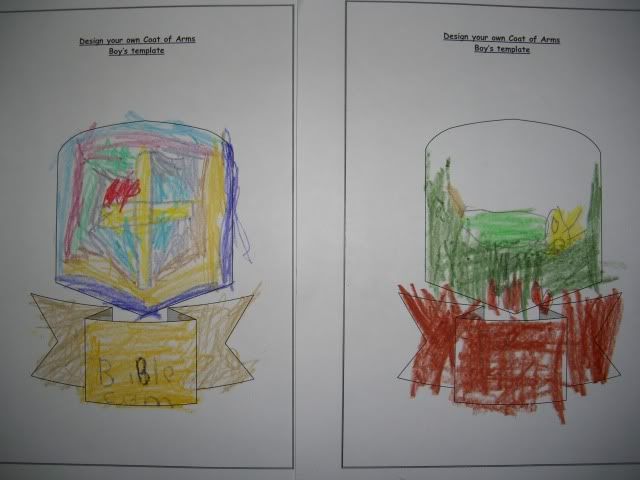 On Friday, the boys played a game in Heritage Studies.  For every question they answered correctly (regarding John Smith) they got to put up a wall of their house.  For those who have been following this blog since the beginning, you may recall that Cam did this activity earlier in the year.  Here are some pics from Friday: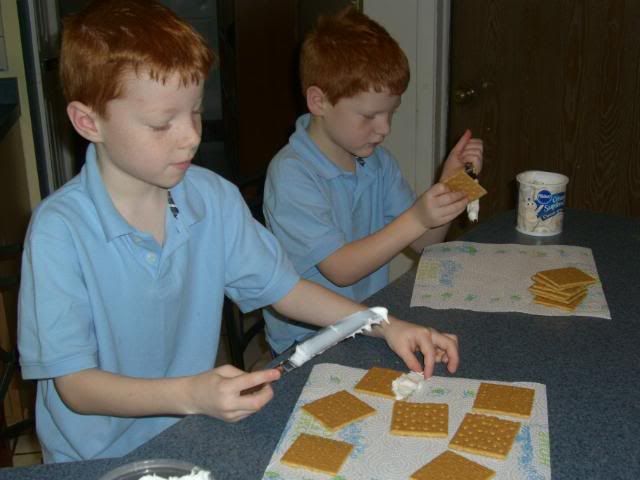 In Greek this week, we learned more of the Greek alphabet (Alpha, Beta, Gamma, Delta, Epsilon, Zeta), and we continued to "interview witnesses" to try and figure out who robbed the muesum.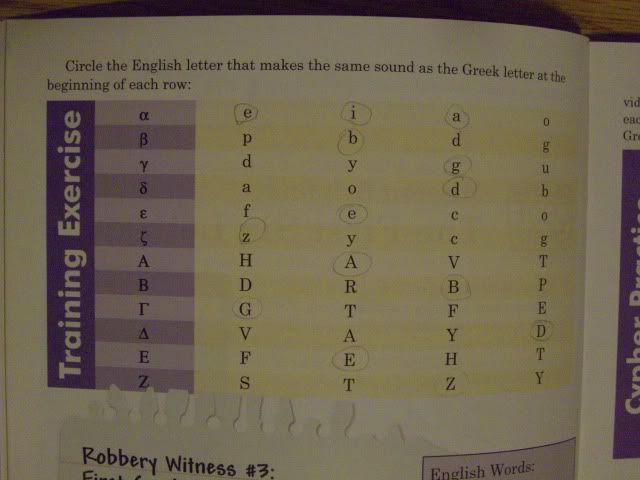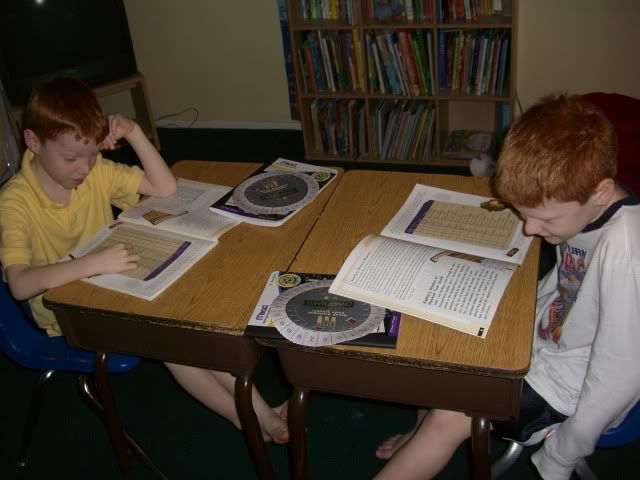 We ended up solving 'whodunit' on Wednesday! Turns out, Mr. Mini was the robber!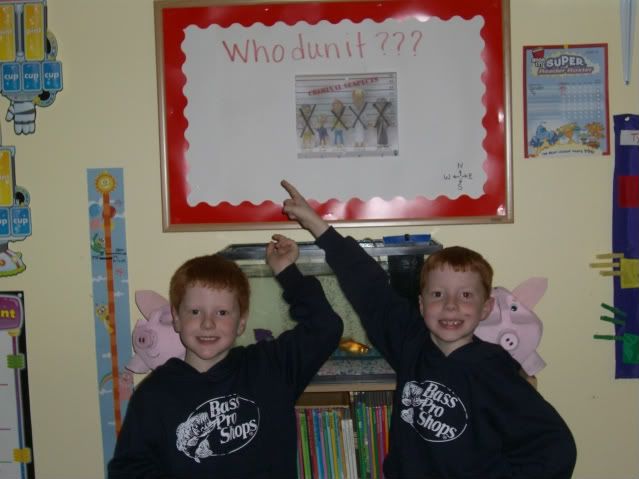 On Tuesday, it was Groundhog Day.  So we read a poem about a groundhog and made a groundhog puppet.  The boys were fascinated by the idea of a groundhog predicting weather.  We looked at pictures of real groundhogs online, and read some of the history of Groundhog's Day. (Quick Ty story:  The following morning, during our calendar time, I asked the boys if they had remembered the name of the holiday we had studied the day before – Groundhog's Day.  Without missing a beat, Ty says, "GOPHER DAY!"  It made me laugh out loud).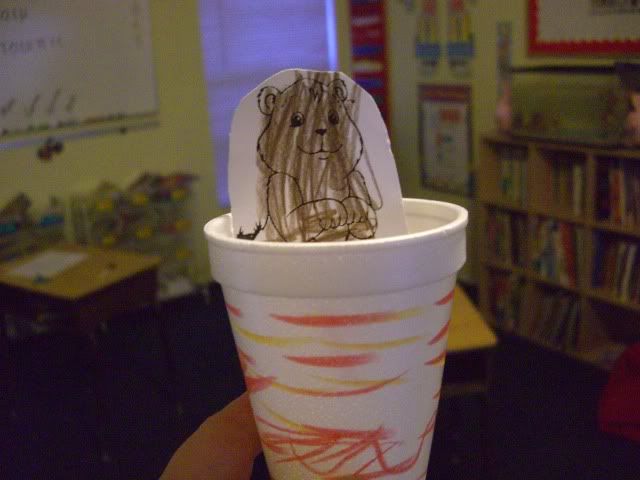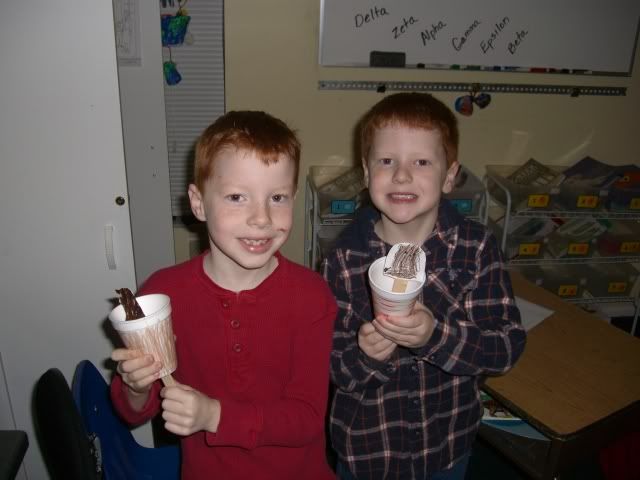 On Tuesday, Ty learned about the Statue of Liberty.  He made a costume to go along with his lesson.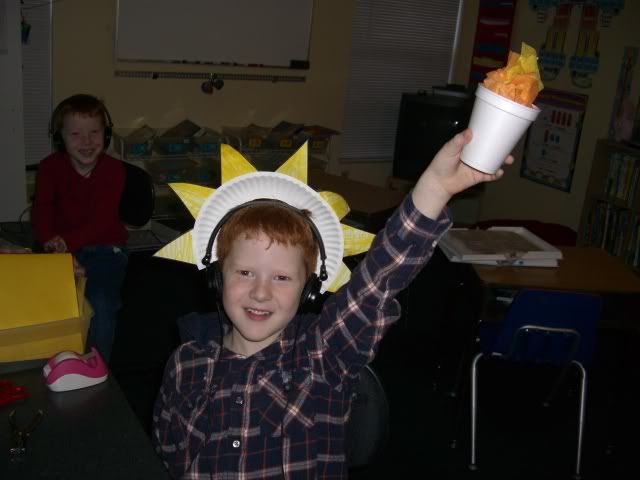 I had signed Cam up for a free Lego magazine a while ago.  Well, the first issue came in the mail today, and the cover was in 3d, so it came with 3d glasses too.  Camden has read that magazine over and over and over. 
Wednesday is now our 'skating day'.  I try to get Cam's reading lesson in before we leave for the Skatium.  His reading lesson is the longest of the day, and I really don't like postponing those lessons.  After lunch he finishes his day with:  Greek, Heritage Studies, Math, Bible, and Spelling.  It sounds like a lot, but if you took did all of those lessons combined, it would take the same amount of time as JUST the reading lesson alone!  So that's another reason why I try to work reading in before skating and lunch.
Here is a pic of the boys at the rink:
Ty's lessons were all completed before we left for the rink (except for Heritage Studies and Greek because we do those lessons together).  Here are some pictures of Ty's Wednesday lessons:
Ty learning to make grape juice in his Bible class: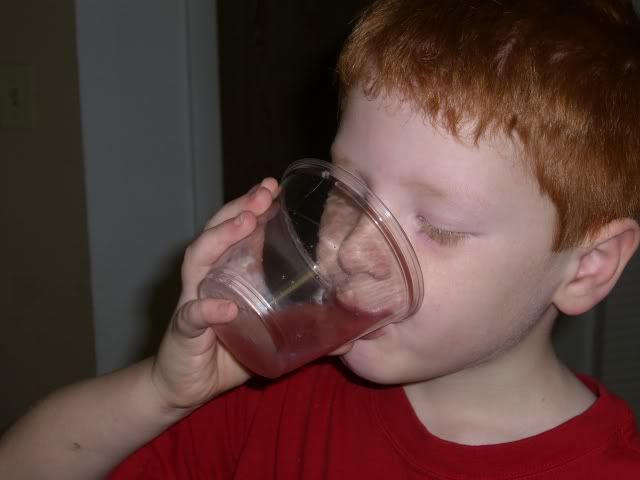 "100th Lesson" in Math class.  He had to write the number 100 on crackers, using cheese-in-a-can: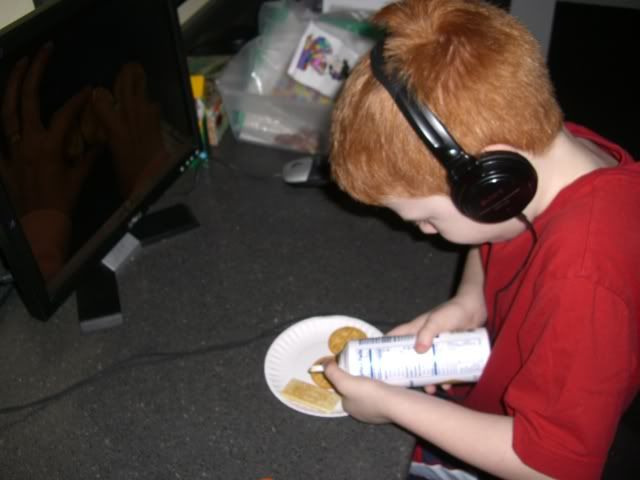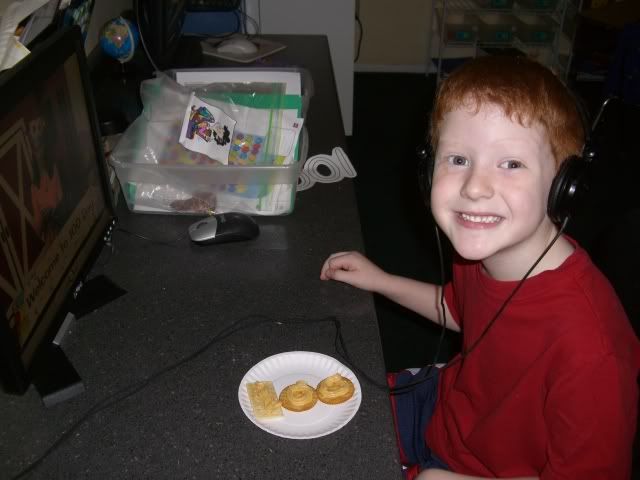 I took this picture of Cam with Holly.  He just adores her.  Ty wanted in the picture too, and I thought this turned out so cute.  Holly is the BEST dog!
Here is Cam doing "messy Math".  Basically, he writes the answers to the equations in the sand.  He really enjoys doing this.  Me?  Not so much.  You see, in this picture, you have the illusion that this really isn't so messy after all, right?  Wrong.  By the time the lesson is over there is sand every.  where.  Paint, glitter, glue, pompoms, playdoh.  I don't mind the mess of those things at all.  But sand makes me cringe.  I can't explain it.
I've decided to take 'Handwriting' out of our daily routine.  Cam's handwriting is pretty good right now, and with all of the writing he does in Composition, I just don't feel like he needs the additional workload.  This is the last handwriting worksheet he did (this week):
Snack of the Week this week was called, "Tundra".  It's layered pudding, cool whip, and crushed oreos.  Then, you add gummy worms to it.  The boys LOVED this snack!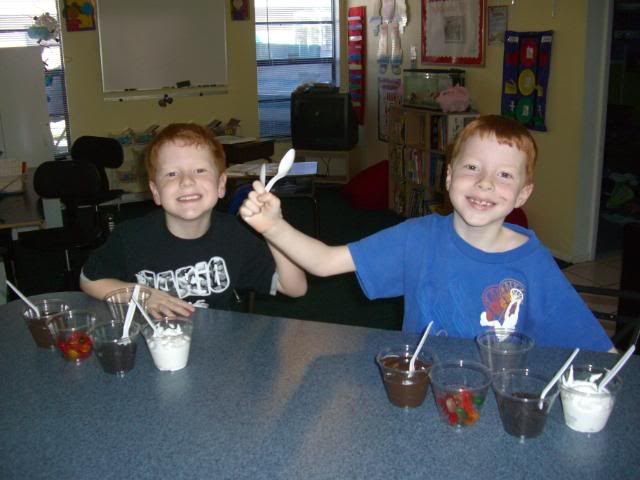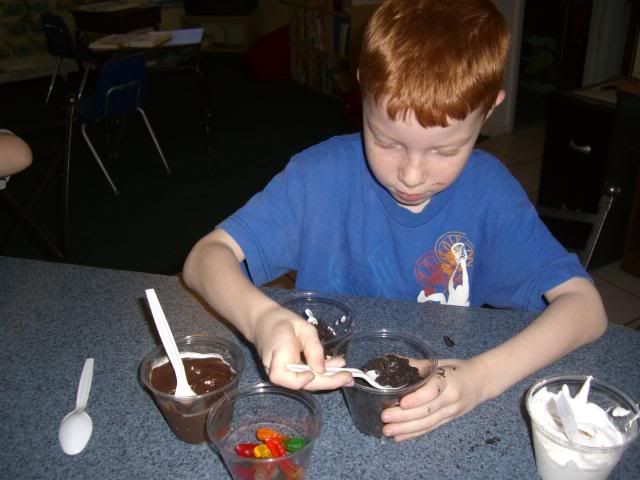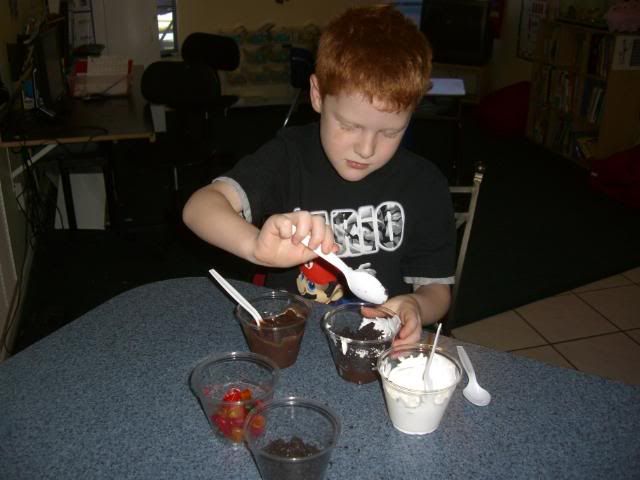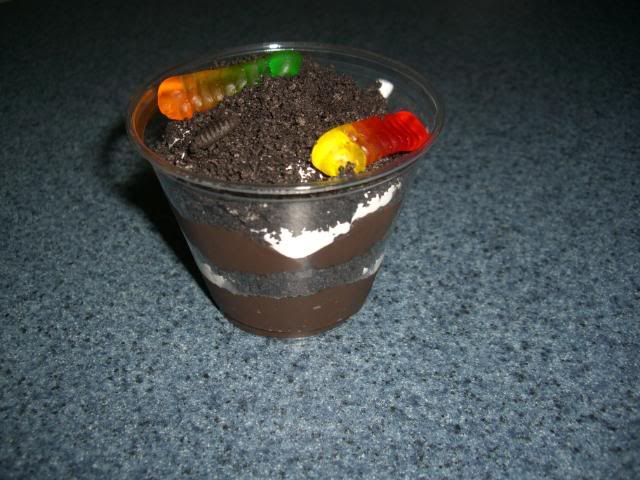 On Friday, Ty had to make a "100 Book".  Basically, he had to stamp the same number of animals as the number on each page.  There were 100 pages.  At first, he was excited about the project.  He even asked if he could use whichever animals he wanted.  I told him as long as he stamped the correct number, that he could use whichever stamp he wanted.  So he went to work: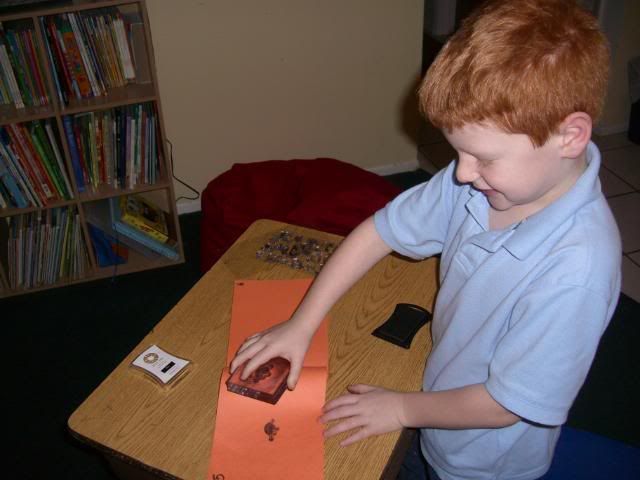 He's still smiling in that picture.
By the time he got to page 20+, he was no longer smiling.  He was irritated.  His hands were covered in black ink.  His shirt had black ink on it.  His MOUTH had black ink.  He was not happy.  The only way I could get him to pose for the picture was to tell him that I would help him finish the book.  LOL
Here is a project Camden got to make in his Bible class this week:
Two more days until Cam's 7th birthday (as of this writing)!  My plan is to make him a Lego cake….I'm still formulating my plan and searching frantically online for inspiration.  I hope to have a small party at home for him next week (TBD).  Since his birthday is on "Superbowl" Sunday, we're going to take him to the Lego store in Orlando on Saturday, then we're going to camp overnight at Space View Park and hope that the Space Shuttle Endeavor (scheduled to launch at 4:39am on Camden's birthday) goes up on time.  I'll post a blog if it happens as planned. 
I want to give Al and Zaira a special thanks for loaning us their van to camp out in this weekend.  We wouldn't have been able to take Cam across the state for the launch in our own van.  THANK YOU SO MUCH!!!