Week 22: Fiesta Time!
Ty's theme this week centered around learning Spanish.  He learned some Spanish numbers, colors, and foods.  The Snack of the Week this week was 'Spanish Rollups' (bean burritos).  Here are some pictures of the boys putting the "Spanish Rollups" together: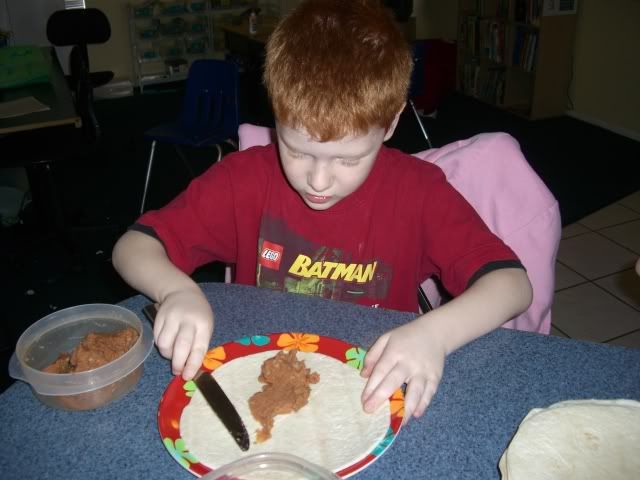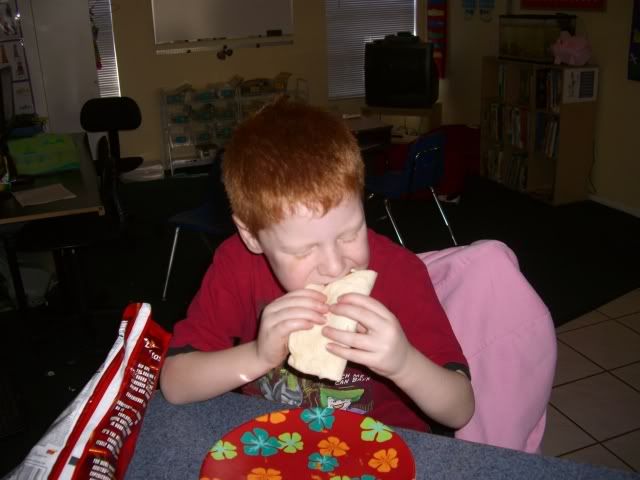 Ty also made a pinata.  This wasn't part of his program.  I had found these really easy, non-messy directions on how to make a pinata, and thought it would be perfect for his theme.  Here are some shots of Ty making the pinata: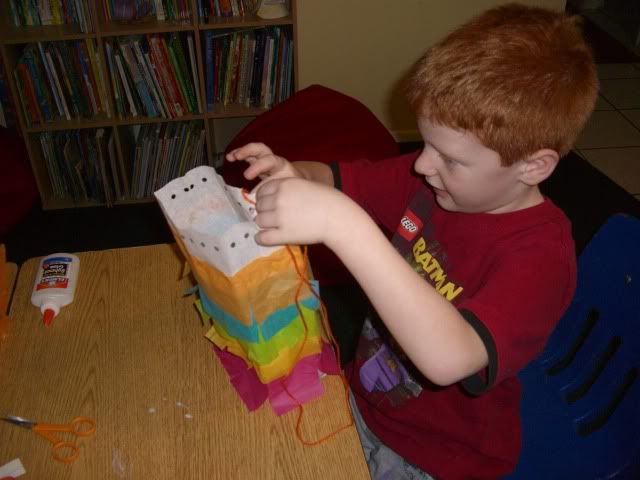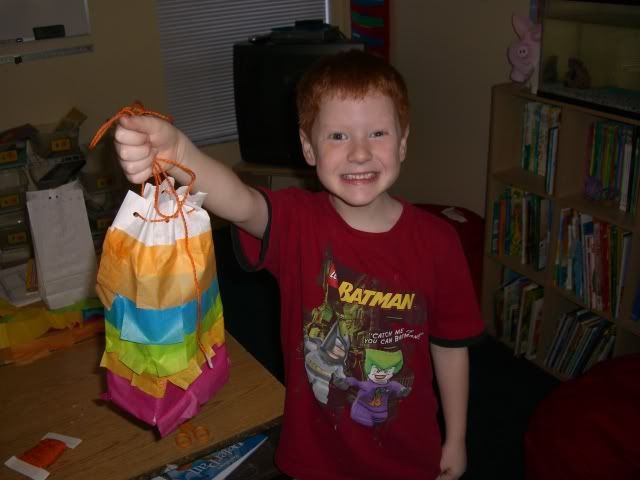 On Friday, they got to hit the pinata: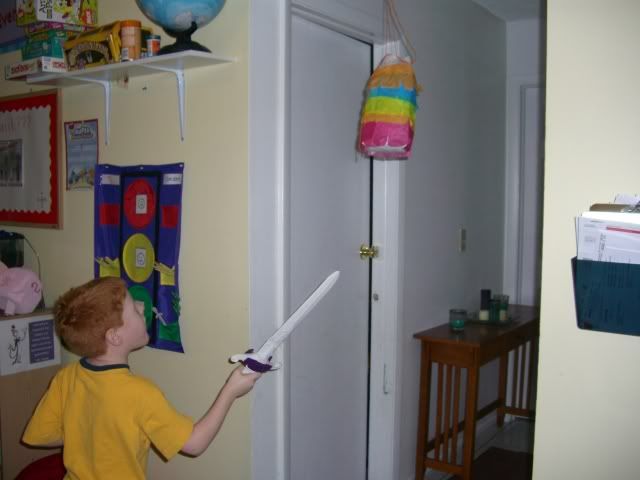 SCORE!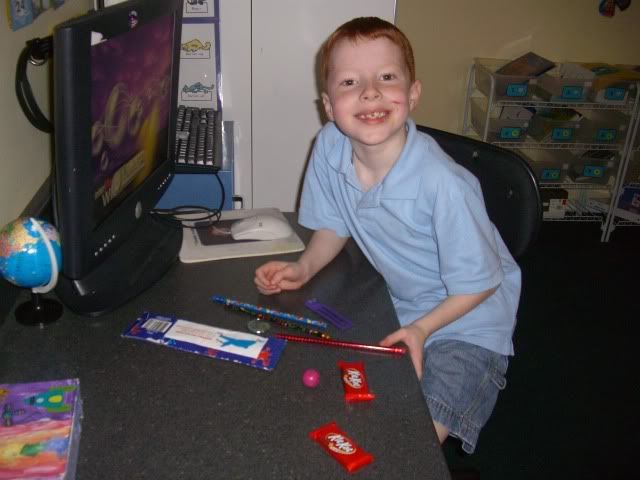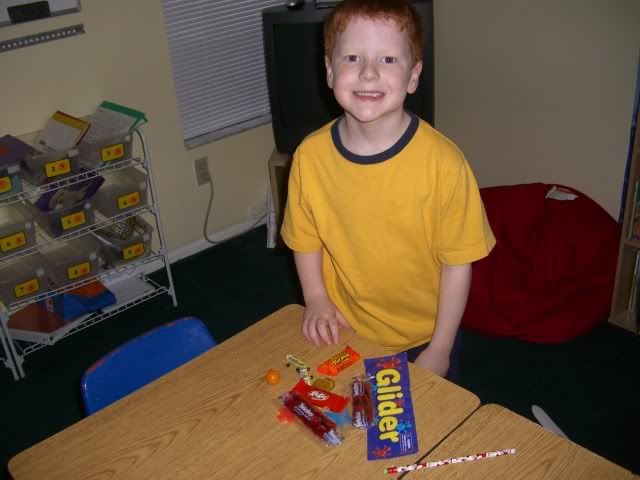 In Heritage Studies this week, the boys made a Tee-Pee.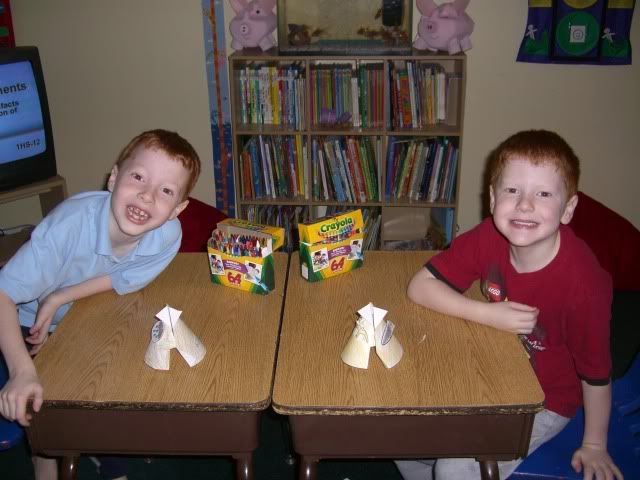 They also learned about time lines, and they made their own time line.  Camden's time line included:  his birthday, Halloween, and Christmas.  Ty's time line included:  his birthday, 4th of July, and Christmas.
On Wednesday we went to the ice rink for public skate.  Apparently the Skatium has public skate every Wednesday from 10:30am – 12:30pm.  So I thought it would be a nice break for the boys to go skate some energy off for an hour.  The Skatium recently installed "free WiFi", so I was able to chat with Scott via Skype the whole time the boys were skating.  In my race to get the boys into the van, I forgot my camera. 
  They had a good time there.  And I was surprised at the number of kids that were there – roughly 30 or so!
Wednesday was also Scott's (Daddy) birthday!  The boys were very proud of the gifts they gave to Daddy (a wallet, and a Playstation gift card).  Unfortunately, Ty told Daddy what his present was before he opened it.  So there wasn't much of a surprise there.  I let the boys each pick out a birthday card for Scott.  Ty picked out a Spongebob card.  Cam picked out one of those cards that makes noise when you open it.  This particular card had dogs barking and kids fighting.  Camden thought it was hysterical.  And by the time it reached Scott's hands, Cam had the whole script memorized and was driving us all batty by repeating it over and over and over.  LOL  Here is a picture of how pleased he was when Scott opened his card:
Scott's favorite cake is Cherry Chip.  Unfortunately they no longer make that flavor.  So I had to be creative.  I took a white cake mix and added chopped maraschino cherries to the mix.  I also added about 1/4 cup of maraschino cherry syrup (found in the liquor section).  It was fabulous!!!! I made homemade buttercream/cherry-flavored frosting for my crumb layer, and covered the layers in molded chocolate (white chocolate).  It is easily the best tasting cake I've ever made.
Since my attempt to carve a boat from cereal treats was an utter disaster, I opted for the easy way out by buying a tube of nautical creatures and just adding them to the cake.  Camden helped with the placement.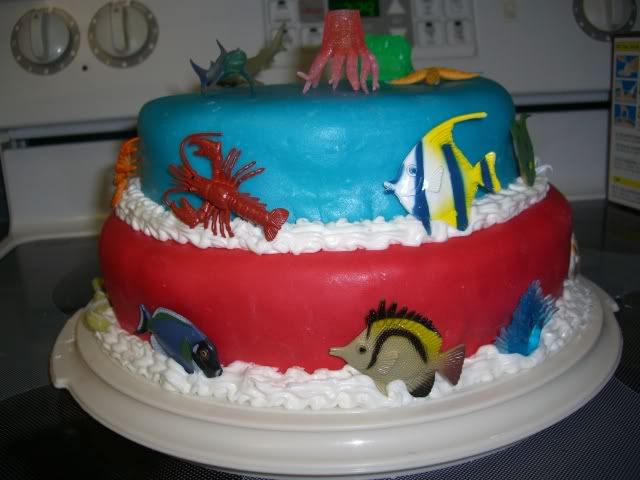 Aside from our usual studies, that was our week this week.