Week 21: 100 Days of School!
As of Friday, January 22nd, we have officially completed 100 days of school!  I can't believe that we are almost done with our first year of homeschooling.  What an adventure this has turned out to be.
On Monday, we had our cousin, Kendall, spend the day with us.  Kendall will be going into Kindergarten in the fall.  She and the boys are like "peas and carrots", and I knew she would have no problem keeping up with us in school.
We started our day off with Heritage Studies.  For our enrichment activity, we made little boats (like Columbus' ships).   I had the kids put them in water to see if they would float.  The sails were too big though.  Oh, and taking pictures of these three at the same time is like taking a picture of a room full of cats (lol).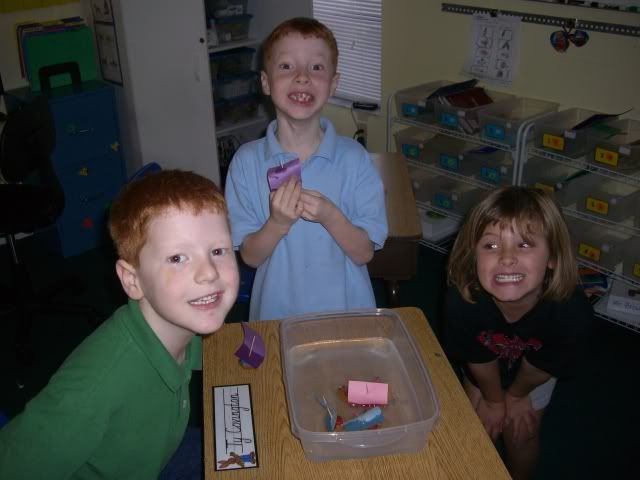 They also had an activity that required them to cut out pictures of items that Columbus was looking for, as opposed to what he found: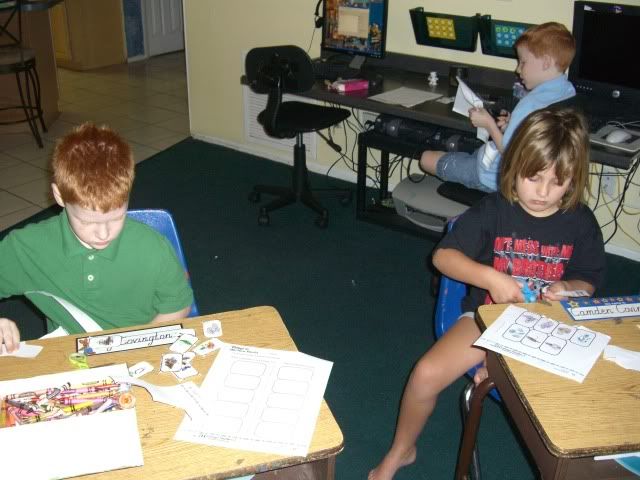 In Bible, Ty and Kendall had to make a diorama of Jonah and the Whale.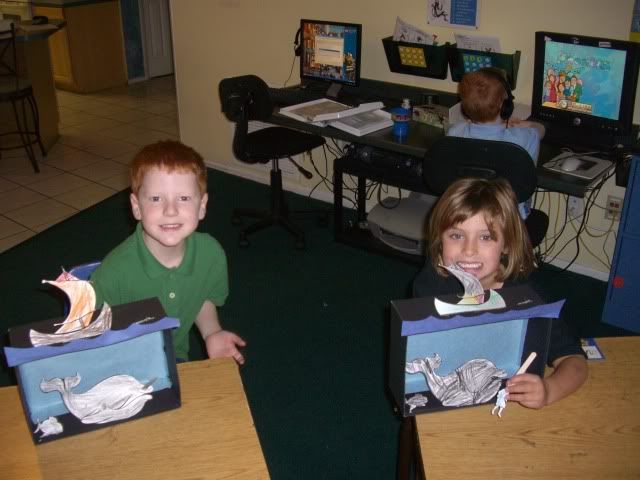 After Bible, it was on to Language Arts.  Cam did his lessons independently on the computer, while Ty and Kendall watched their lesson on the tv.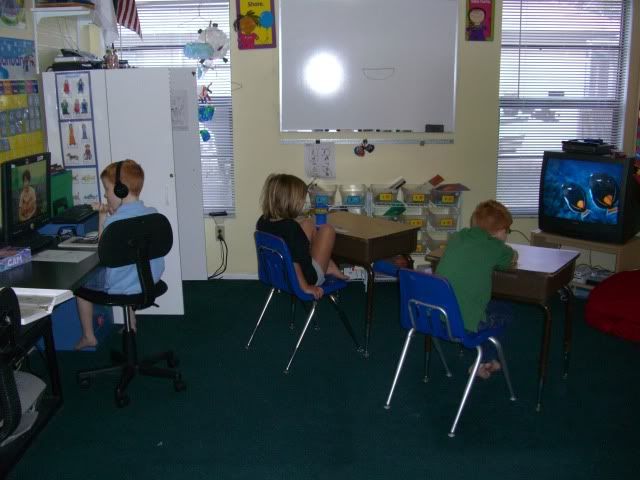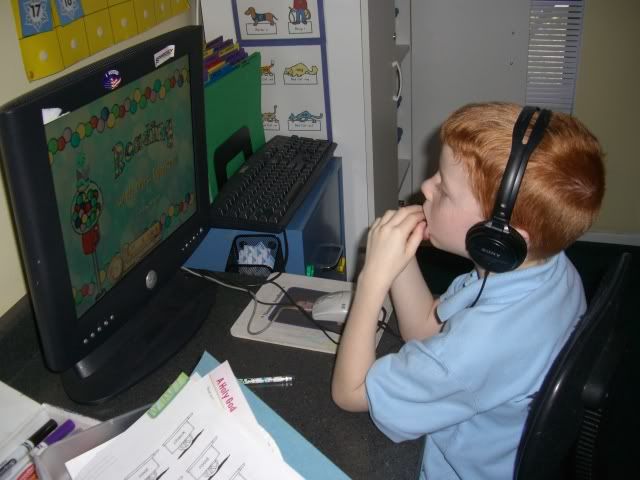 Since Ty's Language Arts lessons are so long (usually about 60 minutes), they get a 'break' at the half-way mark.  It's called "Hopping with Hopscotch", and they have the children do some physical activities to burn off some energy.  Usually Ty does this by himself, but since Kendall was with us, I allowed Cam to join in as well.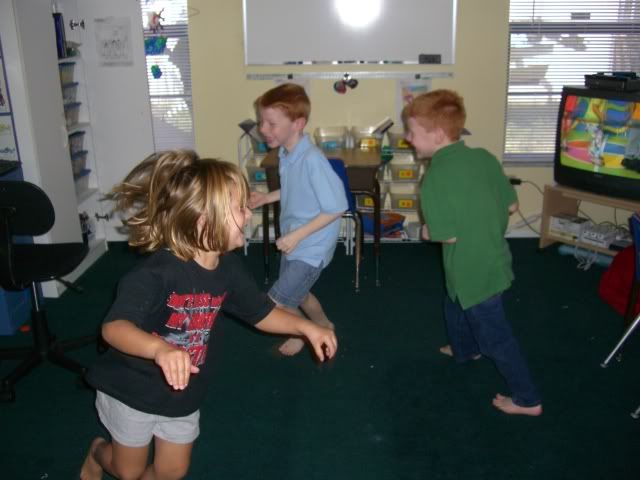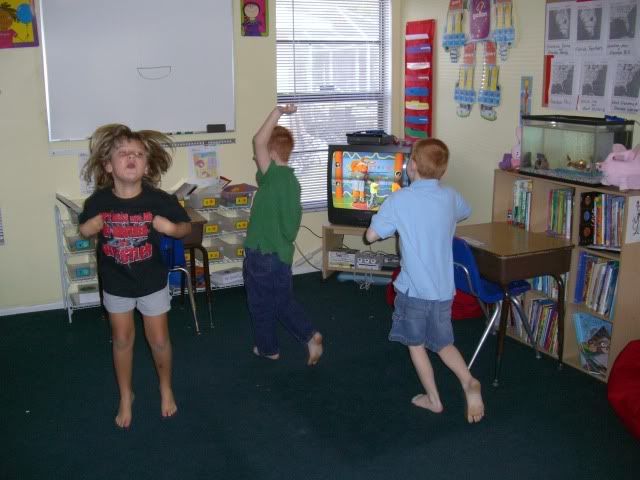 Since it was "winter", and I had these adorable penguin gift bags leftover from Christmas, I gave each of the kids a penguin to stuff.
When it came time to drop Kendall off with her mom, she and the boys were sad to say goodbye.  They really had a lot of fun hanging out and 'doing school' together.  We're hoping that Kendall can join us on a field trip next month.
The rest of the week was school as usual.
On Tuesday, we had our monthly field trip to the Imaginarium.  Our subject this month was 'Amphibians & Reptiles'.  Naturally, the Imaginarium has a LOT of cool animals that they allow the children to touch.  The boys really enjoyed this lesson.
The got to touch:
An Iguana:
A Snake:
A Newt: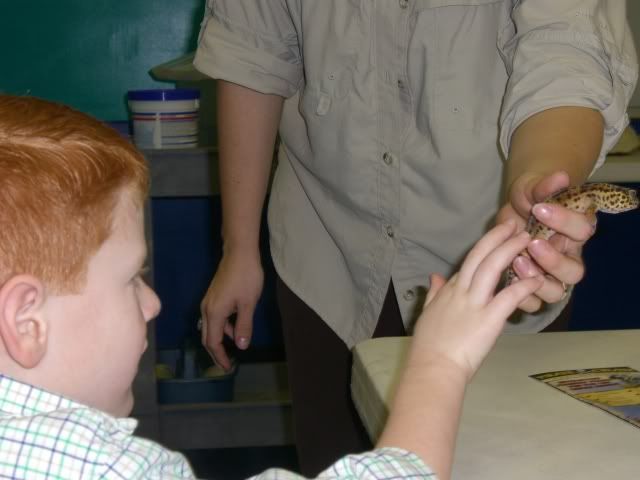 A Frog:
"Mr. Fred"  aka A Toad: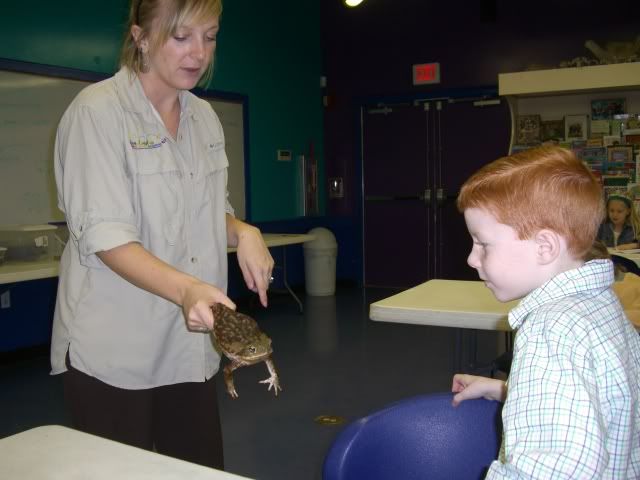 She also let them touch a baby alligator again.  I didn't get any pictures of that though.
This month, the Imaginarium has a dinosaur exhibit on display.  It's going to be there for the next couple of months.  I was really impressed with the setup!  These dinosaurs move, make noise, and look pretty real!  Here is a quick walk-thru I did:

Here are some pictures I took of the boys with the dinosaurs: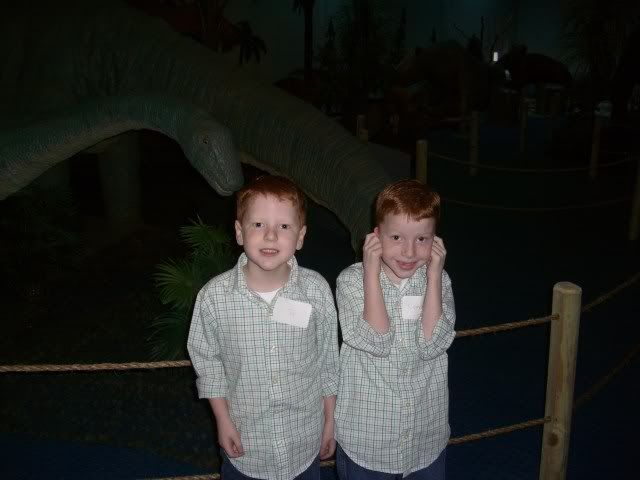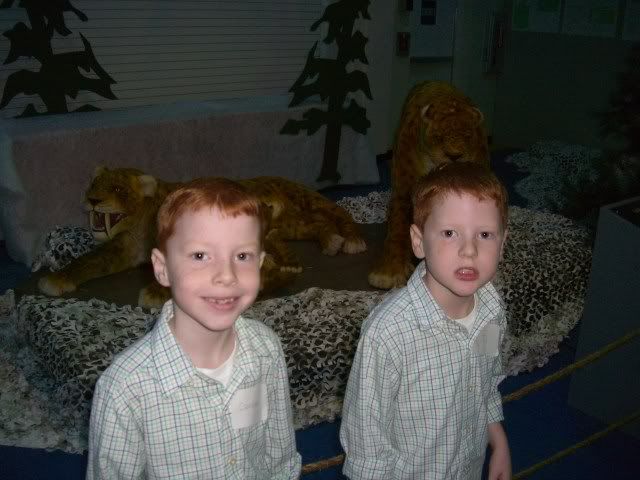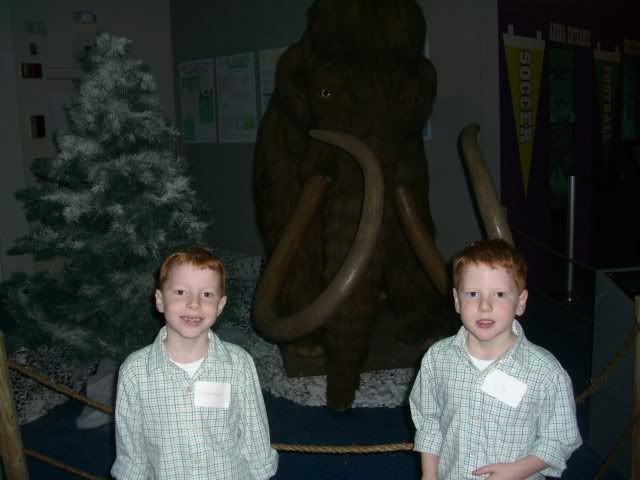 And here they are…playing:
They had a lot of fun at the Imaginarium this month. 
Moving right along…
Ty continued with the 'ocean' theme in his reading class this week, and here is a picture of him making shell imprints in playdoh (we found the shells in our back yard):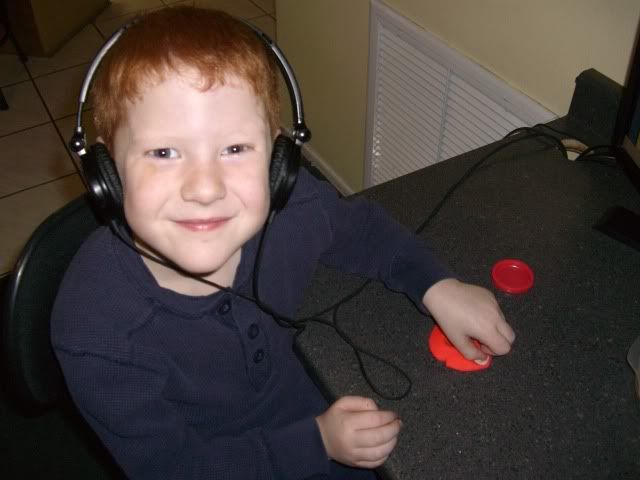 He also learned about whales.  He learned about blubber, and how it helps to keep whales warm.  They had us do this nifty experiment where you take a large container filled with ice, and you place two baggies on top of the ice.  One baggie is empty, and the other baggie is filled with shortening.  Then, you place one hand on each bag and see which one is warmer.  I thought it was a brilliant way to teach young children about blubber!
And Camden learned how to make "crazy crayons":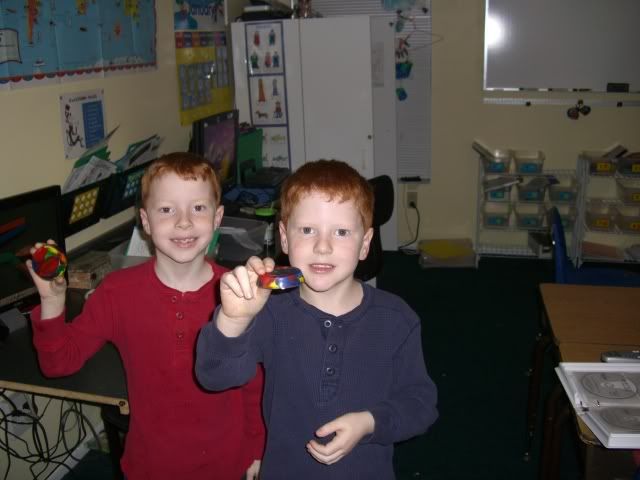 Ty was introduced to fractions in math this week.  He was learning by dividing graham crackers.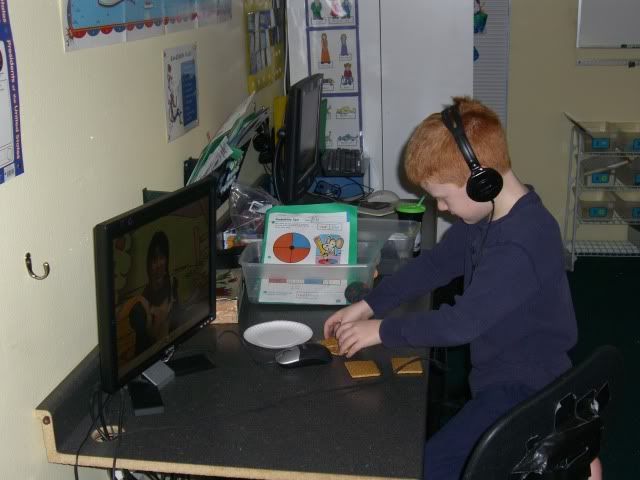 Here's Cam, writing in his composition book about astronauts: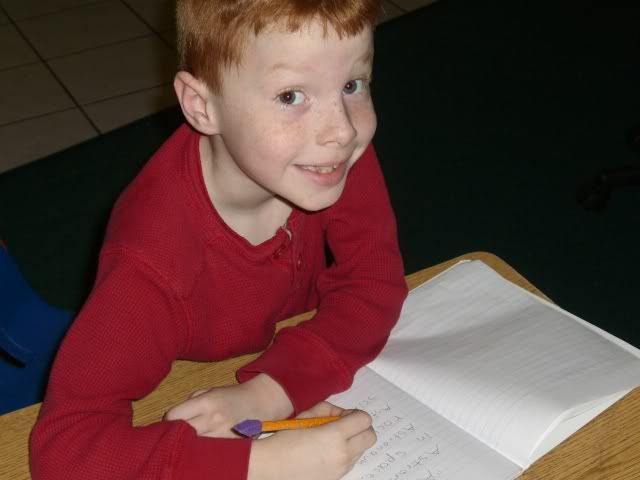 Here is what he wrote (he had to write 2-3 sentences):
"Astronauts"
Astronauts float in space.  Astronauts fly rockets.  Astronauts are scientists.
Here's Cam working on his math lesson: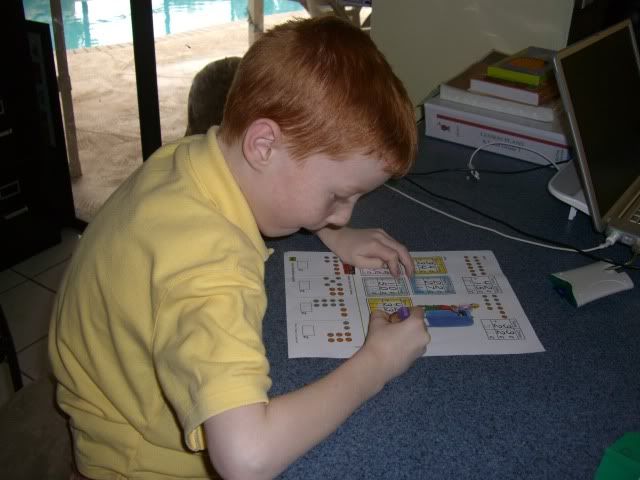 Ty's "Snack of the Week" (blue cream cheese, melba toast, and goldfish):
Next week is Daddy's birthday, and we have some special surprises in store…so be sure to check back next week for the updates!