Week 3: Things Are Looking Up
Last week started out really bad again.  The online videos weren't working during "peak" hours, and BJU's tech support was of no help at all.  They kept insisting that the problem wasn't on their end.  But Monday morning, there was a broadcast message to those of us who use the online videos, and it stated that they were aware that "some" people were having these issues, and that they hoped to have a solution "shortly".
Initially, I was willing to give them the benefit of the doubt.  We STARTED our school day around 3pm, and finished around 6:30pm.  It was awful.  But it was the ONLY way we could muddle through the lessons.
Finally, I just got fed up.  We didn't pay all of that money to be 'chained' to operating a school in the evenings.  My goal was always to do school in the morning, spending our afternoons chasing rabbit trails.  Not the other way around.  So I called BJU again.  I was determined that they were going to make this right with me.  I went into the call resolved to NOT back down for anything less than a free upgrade.
Well, after talking to this person, then that person, then to tech support again, they agreed to send me the DVDs.  Woot!  That's all I wanted…lessons my boys could watch without getting frustrated.
So with that in mind, we still managed to get through our lessons in the evenings, knowing that there was light at the end of the tunnel.
On Wednesday, I took the boys to the ice rink for an hour of "PE".  We were the only ones there.  It was kind of neat to have the entire sheet of ice to ourselves. 
On Thursday morning we went to the grocery store.  When we came back from the store, we had two boxes sitting on our doorstep.  The DVDs had arrived!  I fed the boys lunch, then went through the boxes.  I set up the lessons for the boys to begin after they ate their lunch.
It was like night and day.
Yes, the lessons were the same, but they didn't freeze!  They worked!!!  Everyone was happy.  The boys were paying attention, talking to the monitors, and getting their work done.
Fridays are generally our 'short' days, but with the DVDs working, they are now efficient as well as short.  We finished up with school around 12:30pm, then took lunch to Scott at his office.
We're all excited to start school at our regular time next week (8am).
Here are some pictures from Week 3:
Camden lost his first tooth on top: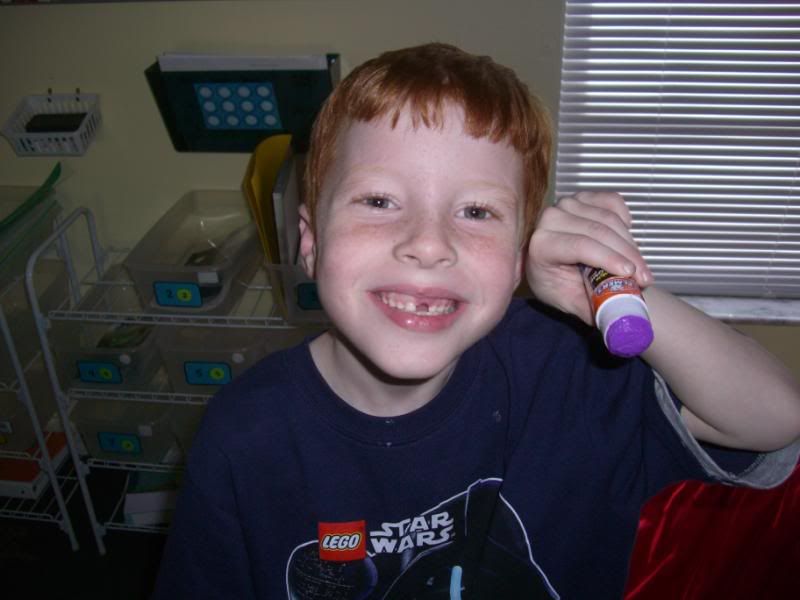 And finally, since Bruce and Hush passed away on Friday, we went out on Saturday and brought home "Gil" and "Hush2″.   Hush2 is the fish with the white-tipped tail.  They are goldfish, and we don't have to worry about them fighting each other until the death.  I'm sure we'll be getting them a larger tank soon, but for now, they have inherited the Betta fish bowl.